GeForce NOWでプレイできるゲームタイトルは600本以上です。毎週新作ゲームが追加され、今後も続々と増えていきます。
女の子
GeForce NOWに対応してるゲームが探しにくい!!
という悩みを抱えた方も多いのではないでしょうか。本記事では「GeForce NOW」でプレイできる対応ゲームタイトルを全部ご紹介します。
ぜひ、遊びたいゲームタイトルを探して遊んでみてください。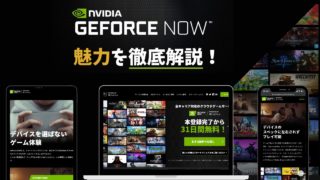 GeForceNOWとは?低スペ端末でも遊べるクラウドゲームサービス!【iOSも対応】
GeForceNOWは、SoftBank社が提供しているクラウドゲームサービスです。今回は「GeForce NOW」の基本情報から特徴や魅力、対応タイトルまで初心者の方でも分かりやすく徹底解説します。本記事を読めば、GeForce NOWを利用するべきかどうかを判断できるようになりますよ!...
【GeForce NOW】対応ゲームタイトル一覧
対応タイトルはNVIDIAの公式サイトを参照しています。
日本版「GeForce NOW Powered by SoftBank」で検索する際は、以下のゲームタイトル名をコピペしてご活用ください。
※掲載はアルファベット順になっています。
0 – 9
7 Days to Die
300 Ying Xiong
7fan All Heroes
A
Ace Combat: Assault Horizon
ACE COMBAT TM 7: SKIES UNKNOWN
Age of Empires II HD
Age of Empires: Definitive Edition
Age of Empires III: Complete Collection
Age of Wonders Planetfall
Age of Wushu (九陰真經)
Agents of Mayhem
AION – Advanced Graphics Engine
Albino Lullaby VR
Albion Online
Alice VR
Aliens: Colonial Marines
A.V.A. Alliance of Valiant Arms
Amazing Cultivation Simulator (了不起的修仙模拟器)
American Truck Simulator
AMID EVIL
Ancestors: The Humankind Odyssey
Ancestors : The Humankind Odyssey
Anno 1800
Anthem
Apex Legends
A Plague Tale Innocence
ArcheAge
Arizona Sunshine
ARKTIKA.1
ARK: Survival Evolved
Ark: Survival Evolved Online
ARMA II: Operation Arrowhead
ARMA 3
Artifact
Armored Warfare
Asgard's Wrath
Ashen
Ashes of the Singularity: Escalation
Assassin's Creed III
Assassin's Creed IV: Black Flag
Assassin's Creed Odyssey
Assassin's Creed: Origins
Assassin's Creed Liberation
Assassin's Creed: Syndicate
Assassin's Creed: Unity
Assetto Corsa
Assetto Corsa Competizione
Assetto Corsa VR
Astroneer
Atelier Ryza: Ever Darkness & the Secret Hideout
ATLAS
Atlas Reactor
ATOM RPG
Attack on Titan 2
Audition
A Way Out
Azera
Azur Lane Crosswave
B
Barn Finders
Batman: Arkham City
Batman: Arkham Knight
Batman: Arkham Origins
Batman Arkham VR
BATTALION 1944
Battleborn
Battlefield: Hardline
Battlefield 1
Battlefield 3
Battlefield: Bad Company 2
Battlefield 4
Battlefield V
Battlefleet Gothic: Armada 2
Battlerite
Battlerite Royale
Battletech
Battlezone
BeamNG.drive
Beat Saber
Besiege
Beyond Two Souls
Bioshock Infinite
Black Desert
Black Gold
Black Mesa
Blade and Sorcery
Blade & Soul
Blade & Soul Frontier World
Blair Witch
BlazeRush VR
Bleeding Edge
Bless
BONEWORKS
Blood of Steel (铁甲雄兵)
Bloons TD 6
Bloodstained: Ritual of the Night
Borderlands 2
Borderlands 2 VR
Borderlands 3
Borderlands: The Pre-Sequel
Brawlhalla
Breathedge
Bu Bai Chuan Shuo
C
Call of Duty: Modern Warfare 2019
Call of Duty: WWII
Call of Duty: WWII Multiplayer
Cabal 2
Call of Duty: Advanced Warfare
Call of Duty: Black Ops 2
Call of Duty: Black Ops III
Call of Duty: Black Ops 4
Call of Duty: Ghosts
Call of Duty: Infinite Warfare
Call of Duty Modern Warfare 2
Call of Duty: Modern Warfare 2 Campaign Remastered
Call of Duty: Modern Warfare 3
Call of Duty 4: Modern Warfare
Call of Duty: Modern Warfare Remastered
Call of Juarez: Gunslinger
Catherine Classic
Chernobylite
Children of Morta
Chinese Parents (中国式家长)
Chronos VR
Chuan Qi Yong Heng
Cities Skylines
Civilization V
Civilization Online
Closers
Cloudpunk
Code Vein
Command & Conquer™ Remastered Collection
Company of Heroes
Company of Heroes 2
Control
Conan Exiles
Conqueror's Blade
Counter-Strike 1.6
Counter-Strike: Global Offensive
Counter-Strike Online (反恐精英Online)
Counter-Strike Online 2
Counter-Strike: Source
Counter-Strike Nexon: Zombies
Crackdown 3: Campaign
Crackdown 3: Wrecking Zone
CrossFire: Rival Factions
Crucible
Crusader Kings II
Crossout
Crysis 2
Crysis 3
Cube World
Cuphead
Cyphers
D
Damaged Core VR
Dangerous Driving
Dangerous Golf
Dark and Light
Dark and Light
Darksburg
Darksiders III
Darksiders Genesis
Dark Souls II
Dark Souls III
DARK SOULS: REMASTERED
Dark Souls II: Scholar of the First Sin
Darkest Dungeon
Da Tang Wu Shuang
Dauntless
Dawn of Man
Daylight
DayZ
Da Zhan Shen
Dao Feng Tie Ji
Dead by Daylight
Dead Cells
Dead Island: Riptide
DEAD OR ALIVE Xtreme Venus Vacation
Dead Rising 3 Apocalypse Edition
Dead Rising 4
Deadside
Dead Space 3
DEATH STRANDING
Deceit
Deep Rock Galactic
Deiland
Deliver us the Moon
Demon Seals
DAEMON X MACHINA
Depth
Destiny 2
Deus Ex Human Revolution
Deus Ex: Mankind Divided
Detroit: Become Human
Devil May Cry 4 Special Edition
Devil's Third Online
Diablo III
Dirt 3
DiRT 3 Complete Edition
DiRT 4
DiRT Rally
DiRT Rally 2.0
DiRT Rally VR
Dirt Showdown
Dirty Bomb
Disco Elysium
Dishonored
Dishonored 2
Disintegration
DISSIDIA FINAL FANTASY NT
Divinity: Original Sin
Divinity: Original Sin 2
Divinity: Original Sin 2 – Definitive Edition
Divinity: Original Sin Enhance Edition
DmC: Devil May Cry
DNF
Don't Starve
Don't Starve Together
Doom 64
DOOM
Doom Eternal
DOOM VFR
DOOM Vulkan
DOTA 2
Dou Zhan Shen (鬥戰神)
Downward Spiral
Dragon Age: Inquisition
Dragon Ball Xenoverse
Dragon Cliff
DRAGON QUEST BUILDERS™ 2
Dragon's Dogma
Dragon's Dogma Online
Dragon Nest (龍之谷)
Dragon's Prophet
Dragon Quest X Online
Dragon Quest ® XI: Echoes of an Elusive Age™
Dreadhalls VR
Dreadnought
Dream Three Kingdoms
Dream Three Kingdoms 2
Dropzone
Dota Underlords
Dungeon Defenders: Awakened
Dungeon Striker
Dying Light
Dying Light: The Following
Dynasty Warriors 8: Empires
Dynasty Warriors 8: Xtreme Legends
E
Echo VR
eFootball PES 2020
ELEX
Elite Dangerous
Elite Dangerous: Horizons
Elite Dangerous: Horizons VR
ELOA
Elsword
Endless Space 2
Enter the Gungeon
EOS
Escape From Tarkov
Euro Truck Simulator 2
Europa Universalis IV
EVE Online
EVE: Valkyrie – Warzone
EVE: Valkyrie – Warzone VR
EVEREST VR
Evolve
Extopia (自由禁区)
F
F1 2012
F1 2013
F1 2014
F1 2015
F1 2016
F1 2017
F1 2018
F1 2019 Anniversary Edition
F1 2020
Fable III
Factorio
Faith of Danschant
Fallout New Vegas
Fallout Shelter
Fallout 3
Fallout 4
Fallout 76
Fallout 4 Far Harbor
Fantasy Westward Journey
Far Cry 3
Far Cry 3: Blood Dragon
Far Cry 4
Far Cry 5
Far Cry: New Dawn
Far Cry Primal
Farming Simulator 2015
Farming Simulator 17
Farming Simulator 19
Fate Seeker (天命奇御)
FATED: The Silent Oath VR
Fate/EXTELLA LINK
FIFA 12
FIFA 13
FIFA 14
FIFA 15
FIFA 16
FIFA 17
FIFA 18
FIFA 19
FIFA 20
FIFA Online 3
FIFA Online 4
Figureheads
Final Fantasy VIII Remastered
FINAL FANTASY XII: The Zodiac Age Remastered
FINAL FANTASY XIV ONLINE
Final Fantasy XV
Final Fire
Firefall
Firewatch
Fishing Planet
Fly to KUMA VR
Football Manager 2013
Football Manager 2014
Football Manager 2015
Football Manager 2016
Football Manager 2017
Football Manager 2018
Football Manager 2019
Football Manager 2020
For Honor
Fortnite
For The King
Forager
Forza Horizon 3
Forza Horizon 4
Forza Street
Freestyle
Freestyle 2
Freestyle Football
Friday the 13th: The Game
FrostPunk
G
Gang Beasts
Garry's Mod
Gauntlet (2014)
Gears 5
Gears Tactics
Gears of War 4
Generation Zero
Genesis Alpha One
Ghost Recon ® Wildlands
Glorious Mission Online (光榮使命)
Gloomhaven
Good Company
GORN
Grand Theft Auto IV (incl. "Episodes from Liberty City")
Grand Theft Auto V
Grand Theft Auto: San Andreas
Graveyard Keeper
GreedFall
Green Hell
GRID
GRID 2
GRID (2019)
GRID: Autosport
Griftlands
Grim Dawn
GTFO
Gu Jian Qi Tan
Gu Jian Qi Tan Online (古剑奇谭网络版)
Gu Jian Qi Tan 2 (古劍奇譚二)
Gu Jian Qi Tan 3 (古剑奇谭3)
Guild Wars 2
Gundam Online
GWENT
H
H1Z1
Hades
Hai Zhan Shi Jie
Half-Life: Alyx
Half-Life
Half-Life 2
Half-Life 2: Episode One
Half-Life 2: Episode Two
Halo: The Master Chief Collection
Halo 5: Forge
Halo Wars 2
Hardspace: Shipbreaker
Hearthstone: Heroes of Warcraft
Hearts of Iron IV
Heavy Rain
Hellblade:Senua's Sacrifice
Hellblade: Senua's Sacrifice VR
Helldivers
Helltaker
Herobound Spirit Champion VR
Heroes and Generals
Heroes & Generals
Heroes of Newerth
Heroes of the Storm
Heroes Three Kingdoms (英雄三國)
Hyper Scape
Hitman
Hitman Absolution
HITMAN 2
Homefront: The Revolution
Hollow Knight
Holodeck
Homeworld Remastered
House Flipper
Human: Fall Flat
Hunt: Showdown
Huang Jin Dao
Huan Xiang Shen Yu
I
Icarus
Idle Champions of the Forgotten Realms
Imperator: Rome
Industries of Titan
Infinite Crisis
Injustice: Gods Among Us
Injustice 2
Insurgency
Insurgency Sandstorm
Into the Breach
Invisible Inc
J
Ji Feng Zhi Ren
Journey to the Savage Planet
JUMP FORCE
Jurassic World Evolution
Just Cause 2
Just Cause 3
Just Cause 4
Just Cause 2 Multiplayer
Just Survive
Justice (逆水寒)
JX3 Online (剑网3)
K
Keep Talking and Nobody Explodes VR
Kenshi
Kerbal Space Program
Killing Floor 2
Killing Floor: Incursion
Kingdom: Classic
Kingdom Come: Deliverance
Kingdom Under Fire 2
King of Wushu
Knives Out
Knives Out PC Plus (荒野行动Plus)
Kritika
KurtzPel
L
Laplace
LawBreakers
League of Legends
Legends of Runeterra
Left 4 Dead 2
Lego The Incredibles
Lineage
Lineage II
Life Is Strange 2
Lone Echo
Lords of the Fallen
Lords Mobile
Lost Ark
Last Oasis
Lost Planet 3
Lucky's Tale VR
Lu Ding Ji (鹿鼎記)
M
Mabinogi
Mabinogi Heroes
Mad Max
Madden NFL 20
Mafia II: Definitive Edition
Mafia III
Magicka 2
Magic the Gathering: Arena
Maplestory
MapleStory 2
Maneater
Mars 2030
MARVEL Powers United VR
Mass Effect 3
Mass Effect Andromeda
Master of Orion
Max Payne 3
Mechwarrior 5 Mercenaries
Mechwarrior Online
Medal of Honor: Warfighter
Meng Ta Fang
METAL GEAR RISING: REVENGEANCE
Metal Gear Solid V: Ground Zeroes
Metal Gear Solid V: The Phantom Pain
Metal Gear Solid V: The Phantom Pain Multiplayer
Metal Gear Survive
Metro 2033
Metro 2033 Redux
Metro Exodus
Metro: Last Light
Metro: Last Light Redux
Microsoft Flight Simulator X
Middle-Earth: Shadow of Mordor
Middle-earth: Shadow of War
Minecraft
Minecraft PTGI
Minecraft: Windows 10 Edition
Mirror's Edge™ Catalyst
Monster Hunter Frontier Z
Monster Hunter Online
Monster Hunter World
Monster Train
MORDHAU
Mortal Kombat Komplete Edition
Mortal Kombat X
Mortal Kombat 11
Moss
Mount & Blade II: Bannerlord
Mount & Blade: With Fire & Sword
Mount & Blade: Warband
Moyu
MudRunner
MU Legend
Mu Online
Mutant Year Zero: Road to Eden
My Time At Portia
N
Naruto Shippuden Ultimate Ninja Storm 4
NASCAR '14
NBA 2K13
NBA 2K14
NBA 2K15
NBA 2K16
NBA 2K17
NBA 2K18
NBA 2K19
NBA 2K20
NBA 2K Online
NBA2K Online 2
Need for Speed™ Heat
Need for Speed(TM) Edge
Need for Speed: Hot Pursuit
Need for Speed: Most Wanted (2012)
Need for Speed
Need for Speed Payback
Need for Speed: Rivals
Need for Speed: Shift
Neverwinter
New Retro Arcade: Neon VR
New Xiyou Online 3
Nex Machina
NieR: Automata
Ni no Kuni Wrath of the White Witch Remastered
Ni no Kuni II: Revenant Kingdom
Nioh: Complete Edition
No Man's Sky
No Man's Sky
Nosgoth
O
Obduction®
Observation
OCTOPATH TRAVELER™
Old World
One Piece Pirate Warriors 3
ONE PIECE: PIRATE WARRIORS 4
Onimusha: Warlords
ONINAKI
Onward VR
Operencia: The Stolen Sun
Orcs Must Die! 2
Ori and the Will of the Wisps
Outer Wilds
Outward
Overwatch
Overkill's The Walking Dead
Oxygen Not Included
P
Paladins ®
Panzer Corps 2
Path of Exile
Pathfinder: Kingmaker
Pathologic 2
Pavlov VR
Payday 2
Persona 4 Golden
Phantasy Star Online 2
Pillars of Eternity
Pillars of Eternity II: Deadfire
Pistol Whip
PixArk
Planet Coaster
Plants vs. Zombies: Battle for Neighborville™
Plants vs. Zombies: Game of the Year Edition
Plants vs. Zombies GOTY Edition
PlanetSide Arena
Planetside 2
Planetside 2 (Chinese version)
Plants vs Zombies: Garden Warfare
Planet Zoo
PLAYERUNKNOWN'S BATTLEGROUNDS
PLAYERUNKNOWN'S BATTLEGROUNDS LITE – PUBG LITE
Plague Inc: Evolved
Prey
Point Blank
Population Zero
Portal 2
Prison Architect
Pro Evolution Soccer 2013
Pro Evolution Soccer 2014
Pro Evolution Soccer 2015
Pro Evolution Soccer 2016
Pro Evolution Soccer 2017
PRO EVOLUTION SOCCER 2019
Project Cars
Project CARS 2
Project Cars 2 VR
Project Cars VR
Project Winter
Pummel Party
Pyre
Q
Qian Nv You Hun (倩女幽魂)
Qiang Shen Ji
QQ Dance
QQ Dance 2 (QQ炫舞2)
QQ San Guo
QQ Sonic
QQ Speed
QQSM 2 (全球使命2)
Quake II
Quake II RTX
Quake Champions
Quantum Break
R
Radial-G VR
Raft
Ragnarok Online
Rage 2
Raw Data VR
Realm Royale
Redout VR
Red Dead Redemption 2
Red Faction Guerrilla Re-Mars-tered
Remember Me
Remnant: From the Ashes
RESIDENT EVIL 2 / BIOHAZARD RE:2
RESIDENT EVIL 3
Resident Evil 6
Resident Evil 7: Biohazard
Resident Evil: Revelations
Resident Evil Resistance
Rez Infinite
Rez Infinite VR
Rift
RimWorld
Ring of Elysium
Ripcoil
Rise of the Tomb Raider
Rising Storm Game of the Year Edition
Risk: Global Domination
Risk of Rain 2
Robinson: The Journey
Roblox
Robocraft
Robo Recall
Rocket League
Romance of the Three Kingdoms XIII
ROMANCE OF THE THREE KINGDOMS XIV
Russian Fishing 4
Rune 2
Rust
S
Saints Row: The Third
Saints Row: The Third Remastered
Saints Row IV
Sands of Salzaar
Satisfactory
SCP: Secret Laboratory
Scrap Mechanic
SCUM
Sea of Thieves
Sebastien Loeb Rally EVO
Secret Neighbor
Sekiro™: Shadows Die Twice
Serial Cleaner
Serious Sam VR: The Last Hope
Shadow Arena
Shadowverse
Shadow Warrior 2
Shakes and Fidget
Shank
Shank 2
Shadow of the Tomb Raider
Shenmue 3
Shenmue III
Shen Wu 3 (神武3)
Shift 2: Unleashed
Shop Titans
Sid Meier's Civilization VI
Sid Meier's Civilization: Beyond Earth
Silver Chains
SimCity (2013)
Sins of a Solar Empire: Rebellion
Skyforge
Slay the Spire
Sleeping Dogs
Smite
Sniper Elite 3
Sniper Elite 4
Sniper: Ghost Warrior Contracts
Sniper: Ghost Warrior 2
SnowRunner
Sonic Forces
SOULCALIBUR VI
SoulWorker
South Park: The Fractured but Whole
South Park™: The Stick of Truth™
Space Haven
Splitgate: Arena Warfare
SpongeBob SquarePants: Battle for Bikini Bottom – Rehydrated
Sports Challenge VR
Space Engineers
Space Junkies™
Spacelords
Sprint Vector
Squad
Spyro Reignited Trilogy
Starbound
Star Control Origins
Stardew Valley
Starpoint Gemini Warlords
Star Trek (2013)
Star Wars Battlefront
Star Wars Battlefront II
Star Wars: The Old Republic
Starcraft II
STAR WARS Jedi: Fallen Order™
State of Decay 2
Stay in the Light
Stellaris
Steel Division 2
Steep
Stoneshard
Strange Brigade
Streets of Rage 4
Stranded Sails – Explorers of the Cursed Islands
Street Fighter V
Subnautica
Subnautica VR
Subnautica Below Zero
Sudden Attack
Sudden Attack 2
Superhot VR
Surviving Mars
Switchblade
T
Tabletop Simulator
Tale of Wuxia
Tale of Wuxia Prequel
Team Fortress 2
Team Sonic Racing
Tekken 7
TERA
Terraria
Terminator 2 Judgement Day
Tethered VR
The Bard's Tale IV: Barrows Deep
The Binding of Isaac: Rebirth
The Bureau: XCOM Declassified
The Cycle
The Climb VR
The Crew
The Crew 2
The Dark Pictures: Man of Medan
The Elder Scrolls: Legends
The Elder Scrolls V: Skyrim
The Elder Scrolls V: Skyrim Special Edition
The Elder Scrolls V: Skyrim VR
The Elder Scrolls Online
The Evil Within
The Evil Within 2
The Forest
theHunter: Call of the Wild
The Invisible Guardian (隐形守护者)
The Isle
The Legend of Bum-bo
The Outer Worlds
The Park
The Scroll Of Taiwu (太吾绘卷)
The Secret World
The Sims 3
The Sims 4
The Sims Medieval
The Sinking City
The Surge
The Surge 2
The Swordsmen X (武侠乂)
The Talos Principle VR
The Unspoken
The Vanishing of Ethan Carter Redux
The Witcher 2: Assassins of Kings
The Witcher 3: Wild Hunt
They Are Billions
Thief
This War of Mine
Thronebreaker: The Witcher Tales
Tian Long Ba Bu 3D
Tian Long Ba Bu (天龍八部)
Tian Xia III
TianYu (天谕)
Tiger Knight
Titanfall
Titanfall 2
Tom Clancy's Ghost Recon Breakpoint
Tom Clancy's Ghost Recon Phantoms
Tom Clancy's Rainbow Six: Siege
Tom Clancy's Splinter Cell Blacklist
Tom Clancy's The Division
Tom Clancy's The Division 2
Tomb Raider (2013)
Torchlight II
Torchlight III
Total Tank Simulator
Total War: Attila
Total War: EMPIRE – Definitive Edition
Total War: MEDIEVAL II – Definitive Edition
Total War: THREE KINGDOMS
Total War: Rome II
Total War: Shogun 2
Total War™: WARHAMMER ®
Total War: WARHAMMER II
Trackmania
Transference VR
Trials of Mana
Transformers Online
Tree of Savior
Tropico 6
Trover Saves the Universe
Transport Fever 2
Trials on Tatooine VR
Trials Rising
Trine 3: The Artifacts of Power
Trine 4: The Nightmare Prince
Trove
Two Point Hospital
U
V
Vader Immortal
Valorant
Vampyr
VBS 3
VR Funhouse
VR Sports Challenge
W
Warcraft III: Reforged
Warcraft III: The Frozen Throne
Warface
Warframe
Wargame: Airland Battle
Warhammer: Chaosbane
Warhammer 40,000: Dawn of War III
Warhammer: End Times – Vermintide
Warhammer: Vermintide 2
War Thunder
Warriors Orochi 4
Wasteland 2
Wasteland 2: Director's Cut
Watch_Dogs
Watch_Dogs 2
Wen Dao
Wild Fire
Wildstar
Will To Live Online
Windborne
Windlands VR
Wolcen: Lords of Mayhem
Wolfenstein: Cyberpilot
Wolfenstein: Youngblood
Wolfenstein II: The New Colossus
World Of Tanks
World of Tanks: Blitz
World of Warcraft
World of Warcraft: Classic
World of Warplanes
World of Warships
World War 3
World War Z
WWE 2K20
X
X4: Foundations
XCOM: Chimera Squad
XCOM 2
XCOM 2: War of the Chosen
XCOM: Enemy Unknown
X-Heroes
Xiao Ao Jiang Hu (笑傲江湖OL)
Xian Jian Qi Xia Zhuan 6
Xian Xia Shi Jie (仙侠世界)
Xi Chu Ba Wang
XIYOU ONLINE 2
X-Rebirth
Xuan Yuan Jian Wai Zhuan: Qiong Zhi Fei
Xun Xian
Y
Yakuza 0
Yakuza Kiwami 2
Yakuza Kiwami
Yu Long Zai Tian (御龙在天)
Yu-Gi-Oh! Duel Links
Z
ZhengTu 2
Zhengtu Online
Zhu Xian 3
Zombie Army 4: Dead War
Zula
人気ゲームタイトル続々追加!
GeForce NOWでは、プレイできる新作ゲームタイトルを毎週追加しています。
ゲームタイトルは、メンバーのリクエストやゲームの人気度、パブリッシャーの意見に基づいて、毎週サービスに追加されるようです。
最新のゲームタイトル追加情報を知りたい方は、GeForce NOWの公式ツイッターアカウントをフォローしておくと良いでしょう。
無料ゲーム以外は購入が必要
「Fortnite」や「League of Legends」など基本プレイが無料のゲームはそのまま楽しむことができますが、ソフトが有料なゲームは「Steam」「Uplay」「Blizzard Battle.net」などのストアから購入する必要があります。
今なら31日間の無料お試し期間があるので、登録して実際にどんな感じなのか体験してみてからでも問題ないですよ。
GeForce NOW公式サイトへ
まずは31日間無料お試しに登録
GeForceNOWの評判は?気になる遅延や回線など利用者のクチコミから徹底解説
「GeForceNOWってほんとにサクサクゲームできるの?」「低スペック端末だけど大丈夫?」と不安になる方も多いかと思います。そこで、今回はGeForceNOW利用者の評判・クチコミをご紹介します。...
GeForceNOWがiPhoneに対応!気になる推薦スペックはどれくらい?
「GeForce NOW by SoftBank」は、2021年1月6日よりiOS および iPadOS に対応したことを発表しました。そこで今回は、気になるiPhoneやiPadの推薦スペックやGeForceNOWでプレイできるゲームタイトルを詳しく解説していきます!...